Welcome to Tri-Town United Soccer
Online registration and tryout dates for the 2017 travel season will posted by mid August of 2016. Stay tuned. Registration fees are anticipated to remain the same as last season. Typically, tryouts dates are sooner for the older age teams and a bit later for the youngest travel teams. TriTown tries to field teams in all age groups depending player numbers; U10 to U19 (Boys and Girls). To inquire, please contact:
Order your uniform for the 2017 Season:
Not opened for the 2017 season, targeted for August. CLICK HERE TO REGISTER FOR THE 2017 SEASON! 
Our Fields:  7100 Seneca St., Elma, NY  14059
TRI-TOWN MISSION STATEMENT
To provide the most competitive and highest-quality* travel soccer program for the youth of our community
*High-quality will meet our objectives of:
Developing our youth as individuals and as team players
Enhancing social and athletic development
Providing a safe, substance-free environment
Providing the best coaching and finest fields & facilities within our not for profit resources
Developing good sportsmanship
Enjoying the game and having fun
Tri-Town United Soccer Club offers travel teams for boys and girls from ages of under 08 to under 19. Tri-Town United Soccer is a member of a competitive travel league, BWNYJSL, therefore the process of choosing teams includes tryouts, which will are held in late summer/early fall for the following summer season. Depending on the players age some teams will have multiple age groups
Register become a member of the Tri-Town Soccer family.
To Be Opened Soon for 2017 Season - Register for our
Travel League
Tryouts for U08-U12 teams on TBD. All players must be registered to be considered for a team.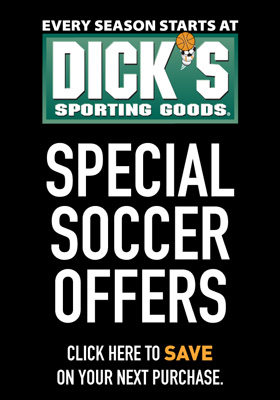 Save 10% on your purchase of new soccer gear!